How big a room do you need for a full size snooker table?
In snooker, players must use their cue (and other pool equipment) to cue the cue ball such that the object ball travels at the appropriate angle into one of the six pockets. If one is successful at this, one gets a chance to shoot at one or more of the balls in the designated chain. This article demonstrates how large a room needs to be to house a full size snooker table.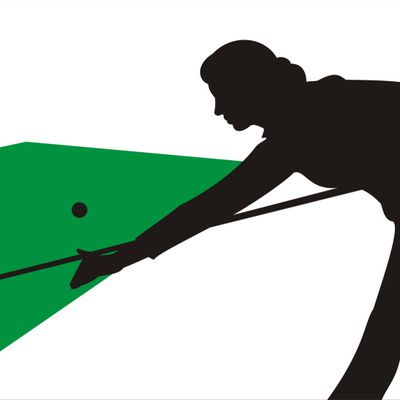 The table
The table
There are various different types of table available, but, unless otherwise stated, this article will focus on the regulation ('full') size tables.
Snooker tables bases are made from top quality, kiln-dried hardwoods, cut, drilled and shaped into the requisite table legs and pockets.
Descriptions
Then, for playing surface, the table is essentially carpeted with a green baize cloth sourced from a weaving mill.
Snooker balls are cast from a combination of highly resistant plastic materials. Measurements
A table snooker is played on measures 12" 5 in length by 5" 10 width (3.669m by 1.778m).
The height from the floor to the top of the cushion (essentially, the small rails around the baize playing surface) should be between 2"9.5 and 2"10.5 (85.1cm and 87.6cm).
How big a snooker room needs to be
The bare minimum for a snooker room
Given that standard snooker cues measure around 4"10 (147cm), the smallest size one could really have for a snooker room is around 5.669m by 3.778m.
This is, however, based on the players having to play somewhat uncomfortable shots with an angled cue action (up to around 30 degrees) when the cue ball is resting on or near any of the cushions.
This is because this size only has a one meter buffer zone around each side of the table, which is only just over two-thirds of the standard cue's length. Comfortable size for a snooker room
To ensure that players are able to play comfortable shots right up to the cushion, the room must be at least 6.6m by 4.7m.
Final word
Such a room will also allow the owner to have different features and snooker accessories, which can really create the proper atmosphere for playing snooker.
Often snooker rooms are seen as a bit of a 'man den' with chairs, pictures, posters, TVs, radios, scoreboards, even bars.