Blogs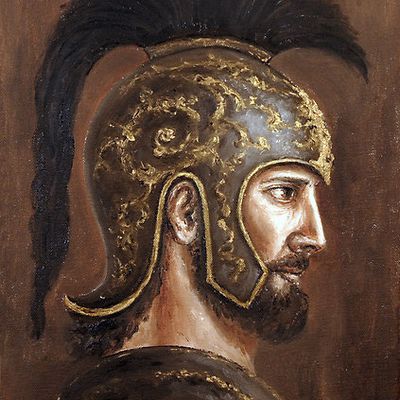 Follow me through my adventures in the Trojan War!
Hector of Troy
Articles to discover
I have killed the great Patroclus, honorary brother of the proud Achilles. He was a great warrior, and I slayed him in cold blood in the chaos of war. I know the invincible swift footed warrior will come for me, but I cannot lose courage. I must face him, despite the prophecy of my death.
We are heading off to battle today. Ships will be leaving the Eastern Seafront TONIGHT at 9 PM. This is a quick prayer I wrote for all the men I wish to remember who will be fighting for us! Oh! Zeus, Lord of the Wind and Sky King of all mortals Lead us into victory Over our Achaean enemies And to our fate, be truthful Fulfilling our earthly destin
To all my friends, family, and followers, I know I am rapidly approaching my deathbed. I have killed Patroclus and Achilles is coming, as the Oracle predicted many years ago. If I shall fall, and Troy follow, I deserve the eternal torture of the everlasting Tartarus. I am sorry
It has been a month since we have entered this horrible war, and the losses are to great to count. We have sent almost 900 men home on their shield. The Greeks are not doing much better - their losses number in the eight hundreds. I have killed 50 or more with my own hands. I will bring victory and more deaths!
I am sorry to inform you of the death of the beloved Patroclus. He was a brave soldier and a wonderful, loving husband. He will live on in our memories forever. -Andromache
Oh why did I kill thee, o son of Menoetius. Have the fates willed this upon me Or have I, in the throws of war acted of my own will? Am I to have the same fate as he who I killed? Oh Athena and Ares, immortals of war How can I rectify the wrong done in this war Just as the war killed thee, it has killed me
I just recieved news that I was elected Chief of the Trojan Army for the duration of this Greek-Trojan War! I would like to thank my wife, Andromache, for her support of my military campaigns, my father, King Priam, for training me for all these years, and all my supporters for believing and trusting in me! I will not let anyone down! Hector, Chief
Hilarion, Euphrasia Methodis, Agape Mnason, Hagne Phaidros, Diodoros Solon Tycho The men killed by the Greek Achilles - We must avenge their deaths and defeat all of the Achaeans.