All about: Kurt Gieger shoes
Kurt Geiger began in 1963 with a single shop on London's Bond Street. It has since grown into an international shoe retail brand. Partnering with British Vogue and GQ magazines, they have sponsored Ultimate Shoe Guides with both magazines. With a stable luxury brands, a reputation bar none and shops across the globe, this is a brand to be taken seriously. Learn more on this brand.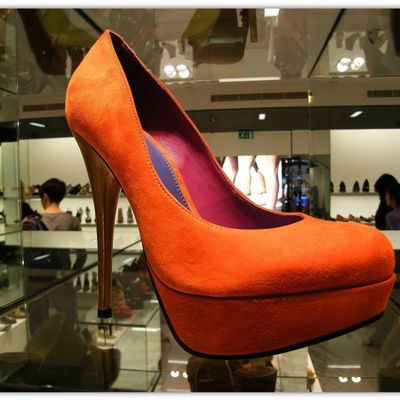 Shoes
The Kurt Geiger stores carry their own shoe brands, Kurt Geiger, KG Shoes by Kurt Geiger, Miss KG, Carvela, Solea and Fashionistas. Other labels to be found on their shelves include Converse, French Connection, Hunter, Nicole Farhi, Nine West, Radley, UGG Australia and Vintage America. As if this weren't enough, they are also the largest retailer of Gucci and Prada in Europe.
Boots and shoes For boots and shoes, there aren't many brands with a wider range. If you are looking for a pair of sky high platform wedges or flat soled riding boots, you are sure to find what you are looking for in a Kurt Geiger shop. If you need a handbag to go with those new shoes, you can find it at Kurt Geiger too. Men needn't feel left out, Kurt Geiger doesn't only stock women's shoes, but they also carry a large range of men's footwear.
Stores
This brand has 65 international stores in eight countries across Europe, the Middle and Near East. Only 22 of the brands shops are outside of the United Kingdom. The designs of these shops is high-end. The lines are slick and clean and the palette is minimal, mainly white with an occasional splash of colour. These stores have an artistic edge with elemental differences between locations. The Covent Garden store has a shoe chandelier, and large steps reminiscent of a cinema, while the One New Change Store has a window display of glass cubes each housing an individual shoe.
Online
Kurtgeiger.com As well as its impressive array of shops, you can also shop the collections online at Kurtgeiger.com. Once you have selected your shoes from the vast array, they will be delivered to you. The standard delivery cost is around £3.99, and your parcel should arrive within seven days. If your items are not suitable, you can return them for free at a standalone Kurt Geiger store within fourteen days of receipt of the goods. Or else, you could post the items back to the head office.