The pros and cons of a walk in refrigerator
For many, walk-in refrigerators are a luxury product, a product only usually found at the back of a large restaurant or a big stately home. This convention however, is gradually being broken as more people are discovering the benefits that walk-in refrigerators can bring to the modern day home. This article examines those advantages and also takes a look at the disadvantages related to owning such a product.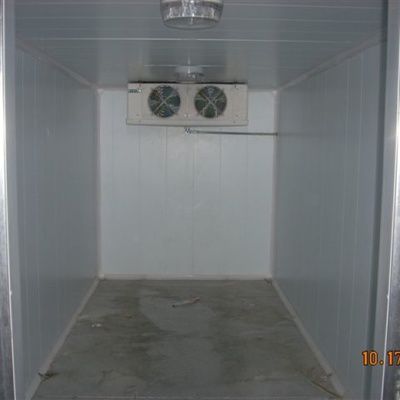 Advantages to the walk in refrigerator
Size
Naturally the biggest advantage which comes from owning a walk in fridge is the size. You have the choice between a variety of walk ins giving you a fantastic range of choice.
Refrigeration systems
Insulation on all walk in fridges is also outstanding and very reliable with air tight seals between panels as standard. They can be available with or without a floor and customised to fit your needs. Storage capacity
Owning a walk in allows for a large amount of perishable goods to be stored and with their size, these goods can be located with great ease. Safety features
Heavy duty hinges, inside door releases and deadbolt locking handles are further features which make a walk in refridgerator extremely appealing.
Disadvantages to a walk in refrigerator
Not affordable to all
Buying a walk in refrigerator is a very large investment. These products are expensive, and many would argue the benefits derived from owning such a fridge is outweighed by the cost involved in purchasing and maintaining one.
Unsuitable for home use
Although an essential piece of equipment in the food services industry, walk in coolers and walk in freezers are not necessarily associated with the modern home. Companies such as Foster refrigeration and other commercial refrigeration companies are still focusing their attentions on the retail and food services industry, and rightly so.
Power consumption
The size of such pieces of equipment means that they are not only expensive to buy and own but also to run. A lot of energy is used in running such coolers. Floor accessories
Some walk-in coolers are fitted with their very own floor assembly. The disadvantage is they offer just three inches of ground slab which is disappointing, because the floors generally take up from 15 to 25% of the overall cost. It can however save more energy because it takes lesser power to raise the temperature. In the long run, walk-in coolers with floors are more efficient savers of energy.
Divided opinion
Purchasing a walk in refrigerator can be a large investment so make sure you are completely informed before you go ahead and make a decision. Remember: you are the one who must live with the walk in that you choose. Think about the points raised in this article and evaluate the options available. Happy shopping!