Wall Street Journal: The facts
Top facts about the Wall Street Journal, America's top financial daily newspaper: history, owners, design, features and awards.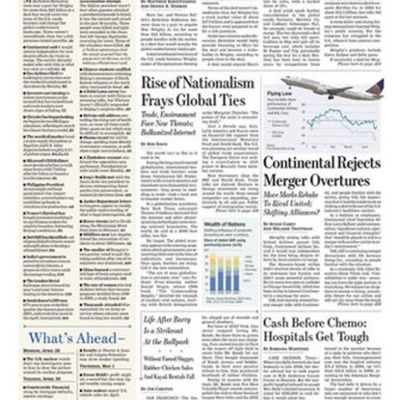 History of Wall Street Journal
Owners
First published in 1889 by Dow Jones & Co., the Wall Street Journal is the United States' most widely circulated daily newspaper which focuses on American and international business and finance topics.
The newspaper took its name from Wall Street, New York's financial district.
The newspaper was under the control of Clarence Barron and his descendants from 1902 to 2007.
Since 2007, the Wall Street Journal is part of Rupert Murdoch's news empire.
Features and design
Sections and features
The newspaper is written and edited by a staff of more than 400 reporters, editors and copyreaders.
The most widely read section of the Journal is titled "What's News" at the front page. The paper comprises four sections: Page One, Marketplace, Money and Investing or Weekend Journal.
Page One contains the daily top American and international business news - it is famed for its concise summaries and in-depth coverage of important financial issues.
In Marketplace, readers find topics relating to media, technology and advertising, while Money & Investing focuses on the stock market.
The Weekend Journal introduced covers leisure and lifestyle in 1998. Design
From its inception, the paper had a unique design that set it apart from other papers: wide columns and no photographs.
There were no big headlines either: "It is a noisemaking device," Kilgore had said. Other development
Since 1945 and until 2007, the Wall Street Journal carried a six-column front-page design and no advertisements.
It then introduced advertising and narrowed its broadsheet from 15 to 12 inches to economize on printing costs.
The newspaper uses consistent visuals which include caricatures and ink dot drawings. Moving with the times, the newspaper has increased colour photographs.
In 1996,it went online and is available on subscription basis.
Awards
List of awards
The Wall Street Journal was initially excluded from the Pulitzer competition because Pulitzer's son did not consider it eligible.
However, such was the high quality of the newspaper's content that the Journal was awarded its first Pulitzer Prize for editorial writing in 1947. The Wall Street Journal has won 39 Pulitzers, for topics ranging from the Iraq invasion of Kuwait (1991), the Mexican peso (1996), AIDS issues (1997), the suppression victims in China (2001), 9/11 events (2002), Saddam Hussein (2003) aneurysms (2004), backdating stock options (2007) to anti-Obama healthcare (2011).
Final word
The newspaper has been in the forefront of journalism with investigative reports ranging from unethical business practices, AIDS and social issues and the scandal of Enron in 2000 to the 9/11 events.